Hello Everyone!!
How are you doing in this lockdown?? I hope everyone is well and safe!
Today I am presenting 12 months free subscription of Pluralsight. Pluralsight and oracle have collaborated and providing you free online courses with free online certificate so that you can enhance you skills staying at you home in this lockdown.
These courses may help you to get job after this pandemic. These courses i.e. Oracle Cloud Courses will help you to build proper skills that all you need to establish a cloud-based IT infrastructure and the the same time accelerate applcation development and also deployment.
This program will help you to get following courses:
Programming languages (Java, JavaScript/Node.js, Python, SQL, PL/SQL)
Databases, big data, data science
Containers, Kubernetes, Linux, serverless and cloud-native
Development methodologies (microservices, API design, RAD, Agile)
Machine learning and artificial intelligence, chatbots, and blockchain
Modern web and mobile
DevTools, DevOps and pipelines
To get the offer all you need to fill a simple form as shown below: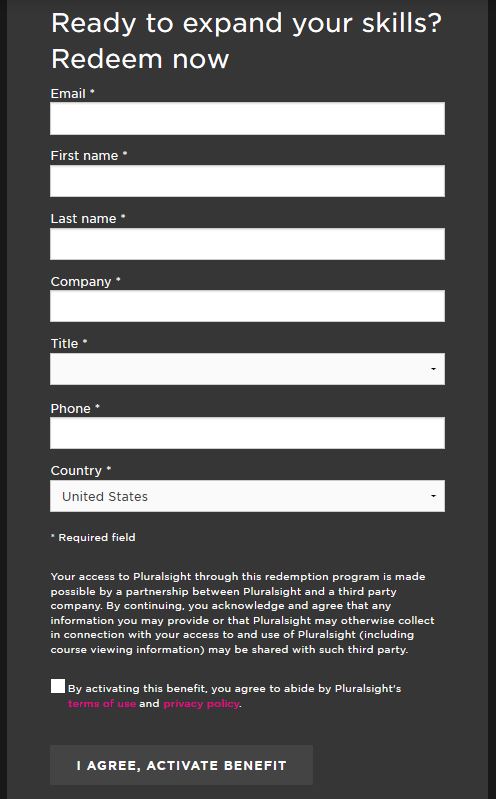 After filling your form just accept the terms and conditions and click on I agree, activate benefit.
After this you'll get and email confirmation. Now go to your account section and in Billing & Subscription you'll see the following!!

That's all you got the Pluralsight premium subscription for 12 months.
Offer Link: https://www.pluralsight.com/partners/oracle
Share this article with your friends and class mates!!
Thank you!!